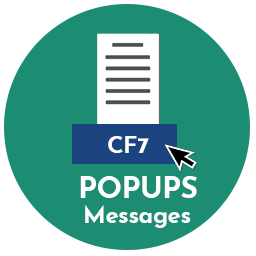 Popups – Submission Messages For Contact Form 7
Last updated
3 months ago
Requires wp
3.0.1 or higher
Requires PHP
5.6 or higher
Daily downloads (last 60 days)
Popups is a SEO-friendly WordPress plugin that replaces default messages shown by Contact Form 7 with beautiful popup messages, handling all error and success messages. It falls under the category of Design and Customisation and boasts of being easy-to-use, lightweight, responsive, translation ready and is backed by 24/7/365 support. If you like it, do leave us a good rating and review.
*This overview was generated by AI. We can't guarantee it's accuracy and may not be an accurate representation of what the plugin actually does.
Description
This plugin will replace default messages shown by contact form 7 with beautiful popup messages. The plugin handles all error messages, success messages with beautiful popup message.
Easy to Use
Lightweight
Responsive
Translation Ready
24/7/365 Support
Feedback
If you like this plugin, then please leave us a good rating and review.
Effortless
By
fyreflow on July 12, 2023
It is literally "plug-and-play", and a very necessary addition to basic CF7.
It is good
By
Shuaib (shuaiburrahman) on June 20, 2022
Please add option for custom message also.
Works fantastic
By
snowdrizzle on June 13, 2022
This worked great with my setup. Wordpress Version 6.0 and running elementor v3.6.5. Only thing is if we are able to customized the test and message. With our own fonts and words. That would take it to the next level.