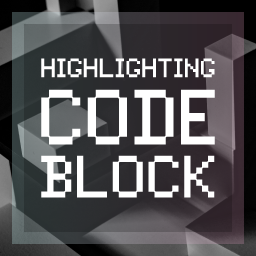 Highlighting Code Block
Last updated
6 months ago
Requires wp
5.6 or higher
Requires PHP
5.6 or higher
Daily downloads (last 60 days)
Like this plugin? Consider donating to support the developers
Donate
Add syntax-highlighted code blocks effortlessly with Highlighting Code Block plugin, compatible with both Block Editor and Classic Editor of WordPress. This plugin is recommended for usage in Block Editor. Select the code language and input code with ease. Works with PHP 5.6 or later and WordPress 5.6 or later.
*This overview was generated by AI. We can't guarantee it's accuracy and may not be an accurate representation of what the plugin actually does.
Description
"Highlighting Code Block" allows you to add a syntax-highlighted code block with just a click.
It supports both "Block Editor" and "Classic Editor".
(However, we recommend using it in the "Block Editor".)
Please see this page for a detailed description of this plugin.(Japanese article)
How to use (For Block Editor)
Open the "Formatting" category of the Block Inserter.
There is a custom block named "Highlighing Code Block".
Select it, the block will be inserted.
Select the language of the code and enter any code.
How to use (For Classic Editor)
You should see a select box labeled "Code Block" on the toolbar (2nd row by default).
When you select a language from the select box, a code block (pre tag) is inserted.
If it doesn't work
This plugin works only with PHP version 5.6 or later, WordPress 5.6 or later.
Please check your PHP version or WordPress version.
About settings
The menu "[HCB] Settings" should be added to "Settings" in the left menu of the management screen.
Settings related to this plugin are set in this menu.