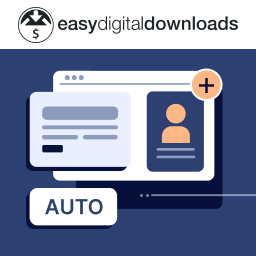 EDD Auto Register
Requires wp
4.4 or higher
Requires PHP
5.4 or higher
Daily downloads (last 60 days)
Like this plugin? Consider donating to support the developers
Donate
EDD Auto Register is a WordPress plugin that creates a user account for customers at checkout, eliminating the need for additional information and reducing purchase time.
*This overview was generated by AI. We can't guarantee it's accuracy and may not be an accurate representation of what the plugin actually does.
Description
This plugin now requires Easy Digital Downloads 2.9 or greater.
Once activated, EDD Auto Register will create a WordPress user account for your customer at checkout, without the need for the customer to enter any additional information. This eliminates the need for the default EDD registration form, and drastically reduces the time it takes your customers to complete their purchase.
Guest checkout is required so the plugin overrides the setting. The registration form is hidden on checkout while the plugin is active.
There are various filters available for developers, see the FAQ tab for more information.
More extensions for Easy Digital Downloads
You can find more extensions (both free and commercial) from Easy Digital Downloads' website