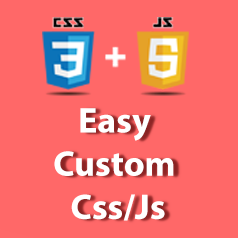 Easy Custom Css/Js
Last updated
8 months ago
Requires wp
5.0 or higher
Daily downloads (last 60 days)
Easy Custom Css/Js is a WordPress plugin that allows users to add custom CSS and JS to their site without the need to manage files. With multiple options and a user-friendly interface, it makes it simple to write CSS for different devices and add custom JavaScript and jQuery. The plugin also includes a rich editor for easy editing and the ability to set CSS for specific posts or pages.
*This overview was generated by AI. We can't guarantee it's accuracy and may not be an accurate representation of what the plugin actually does.
Description
DESCRIPTION
Easy Custom Css/Js plugin allow user to add custom css and js for wordpress site wihtout managing files.
KEY FEATURES
It is simple to use with multiple option.
Permits customers to write css for mobile, tablet, and laptop, and desktop.
Allow to add custom Javascript and Jquery.
Reach Editor to make editing easy.
Allow to set CSS for Specific Post or Page.
For More Information, Please Click Here
This disables features on the admin page
By
kylepress on April 1, 2017
screen options and help button does not expand the options at all. you cannot do anything after activation this plug-in
Simple and Awesome!
By
Artneo (artneo) on December 22, 2016
Thanks for this awesome plugin!
Sassy!
By
Rafał (Ayek) on September 3, 2016